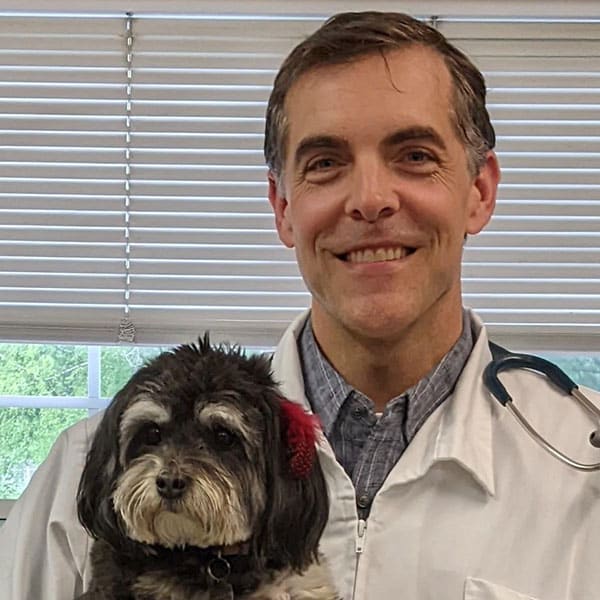 Dr. Searle
Born and raised in Monroe, Washington, Dr. Searle spent most of his time outdoors playing soccer, working with the farm animals, and going to school. After High School, he went to Washington State University for a total of eight years. He received his Bachelors of Science in Genetics and Cell Biology, and a Doctorate of Veterinary Medicine, Surgery, and Dentistry. 
Dr. Searle says "Pullman is a great place to go to school. I grew a lot while I was there and most of all became truly convinced that anyone can achieve their heart's desire." During his last year at WSU, he concentrated on mixed animal medicine and small animal surgery. This included blocks at Kulshan Veterinary Clinic in Lynden, Washington where he got to see and practice at a large mixed animal clinic, at an equine surgery practice in Gresham, Oregon, Northwest Equine, and at a mixed animal WSU extension clinic in Caldwell, Idaho.
Through continuing education, Dr. Searle has focused on small animal medicine and surgery. Recently Dr. Searle attended the AO North America Orthopedic conference on techniques in fracture fixation including external skeletal fixators, intramedullary pinning, and bone plating. Dr. Searle has enjoyed Skagit County. He says there is a nice mix of all species, great outdoor activities, and wonderful hardworking people.
Dr. Searle, his wife, and children have many pets of their own. Their family loves and enjoys Gus, the trusty black lab, Poppy, the loving DLH kitty, and several other farm animals.