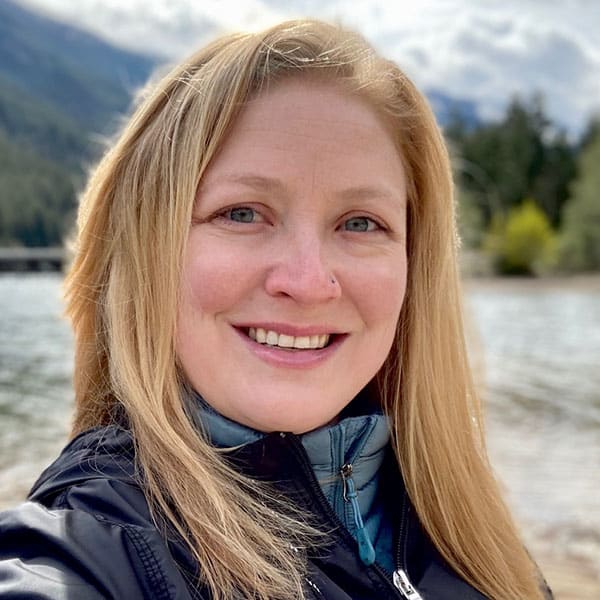 Dr. Mullen
Dr. Marcie Mullen considers herself extremely lucky to have grown up on a farm just outside of Lyman, WA. In her youth, she spent much of her free time wading through rivers and streams to the perfect fishing hole, backpacking all over the North Cascades and Mount Baker wilderness, and running in local road and trail races. Her interest in animals was sparked at a very young age, and she convinced her parents to let her own a menagerie of pets and farm animals. 
After graduating from Sedro-Woolley High School, Dr. Mullen attended Central Washington University – where she ran competitively for the cross-country and track and field teams. Somewhere during college, Dr. Mullen developed a strong interest in veterinary medicine and began volunteering for the local humane society and a mixed-animal practice. She graduated summa cum laude with a Bachelor's of Science in Biology from CWU and magna cum laude from Oregon State University's College of Veterinary Medicine.
Dr. Mullen was thrilled to move back home to the Skagit Valley, joining Chuckanut Valley Veterinary Clinic in 2013. While she enjoys meeting and helping every one of the patients and their owners that come to the clinic, she is especially interested in preventative care, geriatric medicine, pain management, dermatology, and exotics. 
Dr. Mullen married the man of her dreams - Jesse, and together they proudly welcomed their son (Harlon) in 2017, and daughter (Eloise) in 2020. Their family also includes a loveable retired service Labrador Retriever named Chief; a recently-adopted, goofy Golden Retriever named Diesel; a cat that lives up to her name - Miss Puffles the Destroyer; a flock of chickens, ducks, and geese; and various goldfish. In her free time, Dr. Mullen and her husband love to get outside with their kids and share their interests – hiking, fishing, hunting, running, biking, shooting, and gardening.